• When is it time for a man to stop pursuing a woman he's interested in?
Clinical Psychologist Gaby Balsells: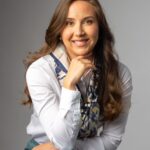 When she says so. With her words.
So, as a man in pursuing a woman it might become apparent by her body language, lack of response or enthusiasm or her communication that she is not interested. But if that is unclear- the man might feel like he's getting mixed messages or he's unsure if he should continue, this would be the moment to ask the woman if she is interested. He could ask: "I'd love to check in with you. I'm interested in pursuing this connection with you but would never want you to feel pressure if that is not what you want. Is this something you are interested in?"
On the other side of the equation, the woman herself might desire to take matters into her own hands and communicate that she is not interested.
If she never communicates in a clear way, then the time to stop pursuing her would be if she is emotionally and physically distant from you, if she doesn't answer your advances or texts, or if she ghosts you.