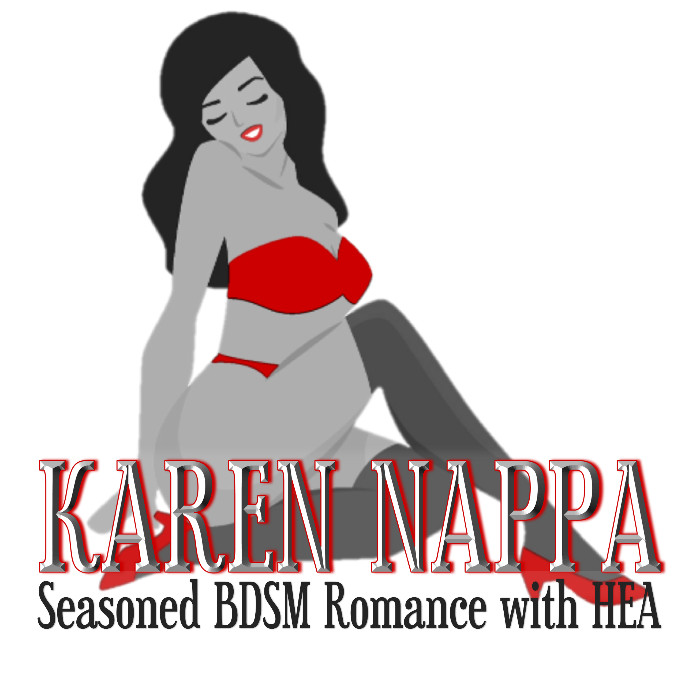 Please introduce yourself and your book(s)
I'm an Amazon bestselling author of Contemporary Seasoned BDSM Romance with HEA.
I turned fifty this year, and I'm married to the love of my life — we have been inseparable since 1993.
Both my husband and I identify as pansexual and we have an open relationship. Although hampered by COVID at the moment, we used to visit BDSM clubs frequently and hope we can start visiting them soon again.
I live in the Netherlands (about sixty miles east of Amsterdam), where I share my home with my husband, two adult-ish sons—and whoever they might drag home with them—and my two Chausie cats.
I'm a software programmer by day. I've also been a horse trainer, sales clerk, administrative assistant, designer, call center agent, call center supervisor, business owner, and manager. In the evenings, I morph into author Karen Nappa and write realistic albeit romantic stories. When not dominated by my cats or my Master (in that order—even if it earns me a spanking!), I love going places to discover the stories waiting to be written.
Books by Karen Nappa:
Club Indigo (BDSM Club Romance)
Trapped (Club Indigo #1)
Trusted (Club Indigo #2)
Appreciated (Club Indigo #3)
Cherished (Club Indigo #4)
Sonja's Confession (Club Indigo #4.5)
Blinded (Club Indigo #5)
United (Club Indigo #6)
A Mistress for Christmas (Club Indigo #6.5)
Conflicted (Club Indigo #7)
Diamonds and Rubies (Club Indigo #7.5)
The Quinn Quartet (interconnected small-town romantic suspense)
Healing Jacob's Heart: a prequel to the Quinn Quartet
Delving Deep (The Quinn Quartet #1)
Finding Trouble (The Quinn Quartet #2)
Standing Fast (The Quinn Quartet #3)
Facing Consequences (The Quinn Quartet #4)
Savage Billionaires (dark and possessive billionaires)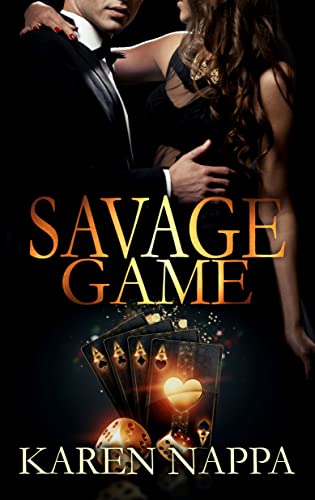 Savage Game (Savage Billionaires Book 1)
Savage Romance (Savage Billionaires Book 2)
Multi-author anthologies
A Season for Love Anthology
I also have several free short stories for newsletter subscribers
Bound — Keeping his Valentine
Laura's Surprise
Good Enough for Abby
Lou's Discovery
Unveiled Desire
His little Rulebreaker
Jared's Doe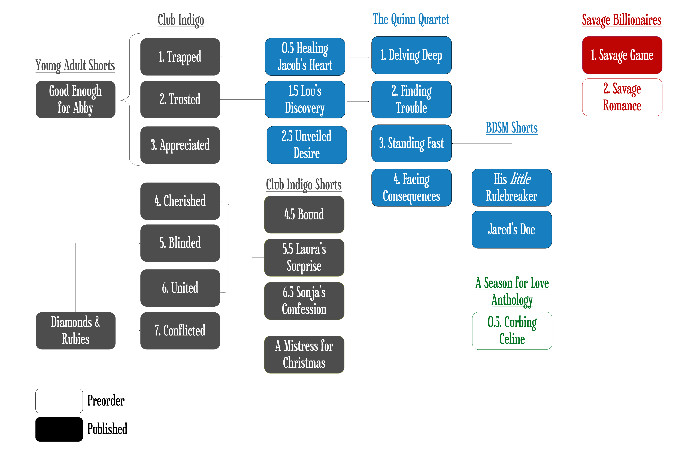 Tell us about the characters and relationships in your stories
Aside from a few (YA/NA) short stories, there's always an element of power exchange in my books. The majority of my characters are between thirty-five and sixty (mature or seasoned so to speak), with diverse backgrounds, and they have been in a relationship before, AKA they have baggage.
I try to cover as many elements of the alternative lifestyle in my books as possible and make my characters stand out as individuals. I write predominantly stories with a dominant man and a submissive woman, but some of my books have menage relationships, Dommes with submissive males or females, and/or LGBTQ+ heroes and heroines.
People come in all sorts and so do my characters.
What lessons could readers learn about real-world relationships from your novel(s)?
Communication is key!
The heart of a good relationship is open interaction, in every relationship whether vanilla or kinky. The beauty in BDSM is the emphasis on consent and protocols, which forces you (if you want to practice safe and sane) to negotiate and to express your wants, needs, fears, and desires. This is the hardest part but also the most important.
For a lot of people getting naked physically is hard but getting naked emotionally is even harder. Some of that you will reveal might be ugly or vulnerable. But how can you trust someone to bind you or to hurt you and not trust them with your mind and soul as well? To me, this is the heart of BDSM relationships and should be the core of every relationship. Although I write fiction, this negotiation, talking, and trusting is always part of my stories, and my characters can't be whole —and thus can't have a healthy relationship— before they let go of whatever they're shielding.
In my opinion, this is true for real-life relationships too.
Relationships also take work. It isn't something you can acquire like a piece of art or an expensive bottle of wine, let it sit and get better. As someone whose been in the same relationship for most of her life I know this from experience.
What real-life relationship experiences, observations or insights have influenced your writing?
Coming from an abusive childhood, I stumbled headfirst in a bunch of relationship mistakes. My first (real) boyfriend humiliated and raped me systematically during our time together and I stayed much longer with him than I should have.
Everything in our lives forms us and I write from my experiences. Many of my heroines have chosen badly in the past and are suffering from those experiences in the present. I guess that is one way my real-life slips into my writing.
Another way is the BDSM element in my books. All kinky scenes are either something I've done myself or witnessed at some point. My books aren't meant as a how-to guide on BDSM, but I try to write it in a way the reader can actually picture themselves in the scenes.
Lastly, if you have influenced my life in some way you're bound to end up as a (side)character in one of my books, whether as a hero or a villain (it is really up to you).
Are there any relationship themes or topics you want to cover in future releases?
I'm planning on writing at least one MM romance at some point. I did have some sensual man-on-man scenes in Facing Consequences and I would like to write more of that. I would also love to write a reverse harem story but until now my characters seemed to be too possessive to allow more than one other in the relationship.
There's one thing I haven't addressed but it bothers me how BDSM books are always put in the erotica category. In my opinion, I don't write erotica because I use BDSM and/or sex scenes as a tool for character and/or relationship growth, rather than writing them for the sake of having them.
Links