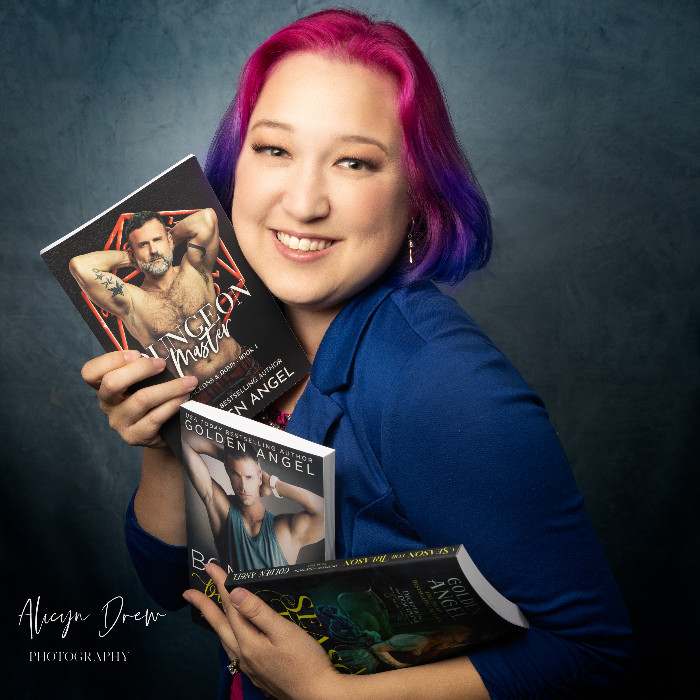 Please introduce yourself and your book(s)
Hello! I am Golden Angel and I am a USA Today Bestselling Author who writes kinky books in a bunch of different genres. I'm mostly known for my contemporary BDSM series and my historical spanking romance series, of which I have several series for both, all set in the same world. When I'm not busy writing, I'm usually with my friends or family, at my sewing machine making costumes, or wandering the local Renaissance fair.
Tell us about the characters and relationships in your stories
I am all about exploring different kinds of people and the relationships that they have. While I love to read about billionaires, what I wanted to write about were real world people who were involved in BDSM, the kind of people I know who live the lifestyle without the private jets and piles of money. For my historicals, I was having trouble finding as many historical romances that included kink as I wanted to read, it was either romance or erotica, and so I decided to try my hand at writing them and it turned out other people wanted to read that too!

What lessons could readers learn about real-world relationships from your novel(s)?
Communication, communication, communication! Especially when it comes to kink, but in relationships in general. I've come to realize that communication is one of the biggest themes for the relationships in my books – when my characters communicate, everything goes great for them, and when they don't (or they make assumptions) everything falls apart.
What real-life relationship experiences, observations or insights have influenced your writing?
Oh everything. I have a large group of friends, and I write about large groups of friends, all who have different kinds of relationships. A lot of what I write is based on what I've gone through or what I've witnessed my friends going through in their relationships. And sometimes I get very personal with it. A lot of my readers told me that Logan, my contribution to the Dad Bod Doms series, was a difficult read for them because the daily-life argument between the couple was so real.
My couples face real life struggles that people can relate to, because they're my struggles, my friends' struggles, and my readers' struggles. Whether it's not worrying over the wisdom of dating your neighbor or boss, or trying to get over a toxic ex, or a wife feeling frustrated with her husband because he's not taking on his share of the at-home work (that would be Logan), I've had so many readers tell me the characters feel real to them. And I think that's because they're so real to me.
Are there any relationship themes or topics you want to cover in future releases?
So many! There's always more. I like to deal with real life topics, which can sometimes be very difficult, but there's an endless amount of them, which means there are an endless amount of things for me to write.
Links