• What advice would you have for a woman who doesn't know what to talk about with male acquaintances?
The great relationship researcher, John Gottman has a popular saying that is great advice for such cases. It's actually great advice for women OR men. When we don't know what to talk about, it's often because we think we have nothing TO talk about. We struggle to be interesting—funny, sexy, entertaining, attractive. We want to attract others to us. We want to be interesting.
John Gottman says we're missing the target. He suggests that we not worry about being interesting. Instead, be interested.
Be curious about the other person: their interests, what they enjoy, what excites them, what moves them, what they love. Get them talking about their passion, be it their career, a hobby, a cause. Then, be interested. Ask open ended questions. Be inquisitive…not intrusive, but inquisitive. Then, listen intently and follow their lead with more open ended questions.
"How did you get interested in that?"
"What is the most important part of that for you?"
"How did you learn about that?"
Learn the story behind their passion.
This isn't meant to be manipulative, but people are inherently drawn toward those who show interest in them.
So, don't worry about being interesting… be interested.
Priscilla Rodriguez, M.S. LMFT: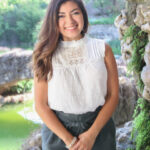 I would say to start off with small talk and basic "getting to know you" questions. This can feel safe and easy and no need to feel that things will get off track or feel stuck.
Peggy Yoder, M.A., LMFT Associate:
Ask the man about himself (work, hobbies, ambitions, etc.)